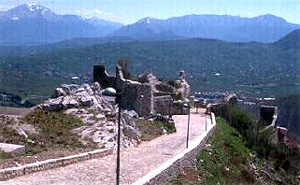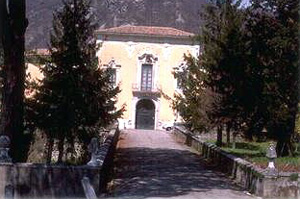 The architectural, archaeological and monumental sites
Mercogliano is a delicious center of stay surrounded by a luxuriant nature that guards an architectural patrimony of notable interest. Particularly characteristic it is the suburb of the middle age with narrow alleys that sometimes open on ample spaces from which a magnificent panorama can be enjoyed. Known with the name of Capocastello is the ancient center, in which they is able, still today, to admire the ruins, recently restored by the Superintendence, of the suggestive Castle medioevale, destroyed by a dreadful fire in 1656. Just to the entry of Capocastello it is visible, besides, the only line survivor of the ancient boundaries that once surrounded the whole suburb: it deals with the Door of the Saints on whose superior part is possible to admire a fresco of St. Martin, St. Florentine and St. Flaviano. The most consistent part of the architectural patrimony of the Commune of Mercogliano is represented from he/she Asked her, among which remember: the Church of S. Pietro and Paul, endowed with a notable bell tower and decorated to the inside from eighteenth-century paintings and from a great cloth, to the ceiling, of Joseph Scala; the Church of S. Modestino; the Church of the Holy Savior; the Church of S. Francesco; the Church of S. Giovanni.

Famous, above all, for the devotion of the believers, from centuries always long live, it is the Sanctuary of Montevergine, situated on the Partenio Mountain, to 1270 meters high, and attainable also through the funicular. The Sanctuary preserves a splendid museum with archaeological finds and a show of mangers coming from the whole world. Revered the thirteenth-century image of the Madonna, painted by Pietro Cavallini. Of valuable invoice is the 1896 monumental organ.

Of notable architectural interest is also the Abbatial Building of Loreto, winter center of the abbot of Montevergine, rebuilt in 1735 on sketch of the Vaccaro. Encircled by the wings of the Building, there is an ample courtyard with a parish priest garden and, on I break down him/it the Partenio. In the rooms of the Building sixteenth-century Flemish tapestries are guarded, besides a pharmacy with a collection of over three hundred vases in maiolica, a library with an important file of over seven thousand parchments, as well as imperial and Episcopalian documents. Its library introduces a book patrimony of over 150.000 volumes.
Hotel
Park Hotel Everest Via R. Marcone 0825.788836
Grand Hotel Irpinia Via Nazionale 0825.683672
Hotel Mercurio Viale S. Modestino, 42 0825.787149
Hotel Green Park Titino Via Don Gennaro 0825.788961
Hotel Grieco Viale S. Modestino, 33 0825.787005
Hotel Romito Piazza Montevergine, 7 0825.72463

Ristoranti e pizzerie
Ristorante Pizzeria Bar Luna Rossa Via Naz. Torrette 100 Tel. 0825.685325 - cell. 338.9742369 - FAX 0825.35027
Ristorante Patriarca Via Ammiraglio Bianco 0825.788465
Ristorante L'Abazia Via R. Marconi A., 8 0825.787505
Ristorante-Pizzeria La Tavernetta Viale S. Modestino, 46 0825.787020
Ristorante Girarrosto Viale S. Modestino 0825.787049
Ristorante Giglio d'Oro Via Nazionale 0825.683338
Ristorante Il Gambero Via Naz. Torrette, 90/D 0825.681180
Ristorante Titino Via Marcone, 105 0825.788177
Pizzeria La Torre di Pizze Via Naz. Torrette, 101 0825.682267
Pizzeria Paradiso Viale S. Modestino, 24 0825.788318
Pub-Pizzeria Super Poldo Via R. Marconi A., 34 0825.789101
Trattoria-Pizzeria Addo' Barone Via Partenio 0825.787423